Purchase Microchips or Scanners
The New Zealand Companion Animal Register is well-known for providing an essential 24-hour pet recovery service. We are dedicated to reuniting companion animals with their guardians as quickly and easily as possible.
We provide a full-service
Microchip registration (life-time)
Lifetime pet admin and advice
Microchip sales
Scanner sales
We are committed to distributing quality products to ensure successful outcomes.
Email orders to [email protected]
Halo Scanners
NZCAR branded Halo scanners are available
Sends notifications to your clinic if you scan a pet who is marked as missing.
$125.00+GST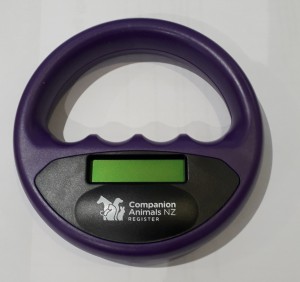 NEW Global-ident Connect XS1.4 Minichip
We are now stocking and dispatching the NEW Global-ident Connect XS1.4 Minichip. We've sourced leading microchip
technology so you can offer your clients peace of mind, because we know that the result of a quality microchip is animals being safely reunited.
The Global-ident Connect XS1.4
Super small 1.4mm x 8.0 mm microchip encapsulated in asoda lime-silicate glass (BIO8265) compatible for implant devices which allows for a smaller gauge and sharper needle (33% smaller than standard 2.1mm x 12.5mm microchips)
Excellent long-term microchip reliability
RFID FDX-B (Full Duplex) passive transponder operating frequency at 134.20 kHz - ISO 11784 and ISO 11785 compliant
A single-use injector in a blister pack with 8 barcodes
Ergonomic injector
A sharp lubricated Luer-Lock needle (12 gauge)
Packaging perfectly adapted for terminally sterilised medical devices, and compliant with the ISO 11607-1 standard
A sterilisation process using Ethylene oxide, widely recognised at the European level for sterilising Human & Veterinary medical devices, compliant with the ISO 11135-1 standard
$50 for a box of 10.
Order 2 or more boxes for free freight.